WE KNOW AFRICA IS RISING BECAUSE OF KITES

I'd love to do a real data crunching type of study on this type of thing. But for now we'll have to settle for stupid jokes about how Africa was a shadowy-underwater thing... but now its the sun? Rising out of the ocean...? makes sense.

Actually the most sensible image is Time's cover where an African tree symbolizes the continent's rise... out of a city? What? Why is the city all Tetris-y? At least they didn't make some play on the shape of the continent.

Mahajan's Book Africa Rising turns the continent (except Madagascar?) into the moon. I'm not sure what to even say about that... super weird. Definitely not going to read that.

The weirdest is the Google image search picture I found where black (African?) men are raising an African... thing...

My favorite is The Economist (after deciding the water shadow/sun wasn't good enough?) used a boy flying a fake African kite to symbolize the continent's economic rise on the global scale...

Ya know, the articles were confusing, I didn't really understand if Africa was rising or sinking!!
But now, thanks to these images, I understand how Africa is rising. Like a kite.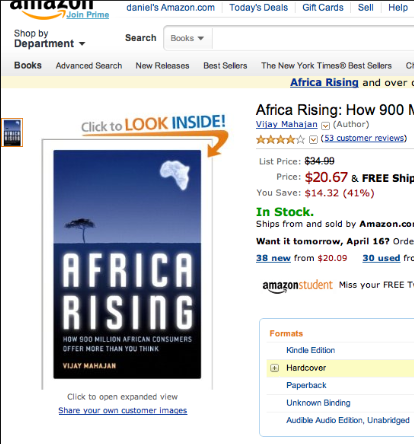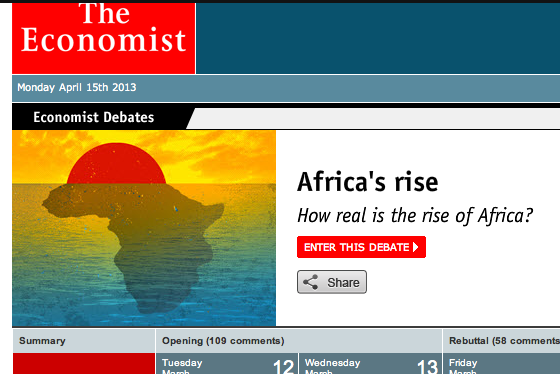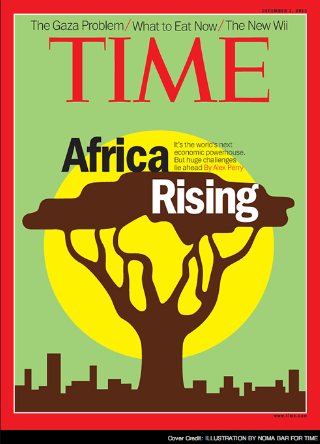 At any rate, these gave me a good laugh.
Maybe I'm reading into things to much... but I think these are pretty funny. Its popular and profitable to talk about the rise of Africa and you've got to have visuals to go with such talk. The creative experts in the media never fail to amaze!

What do ya think? Are these just innocent visuals for good stories? Or weird representations for a continent already constantly misrepresented?